MoU between EHS and Hashemite University for Advancing Health Informatics Skills and Expertise Exchange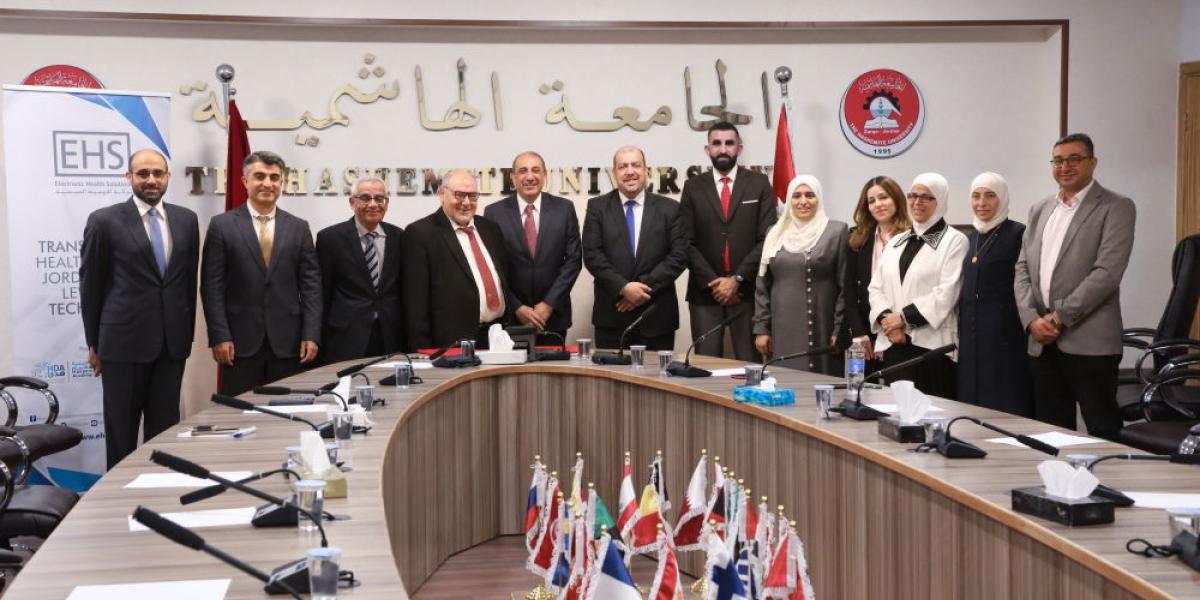 2023/08/24
Date: 14th August 2023
Electronic Health Solutions (EHS) / Hakeem Academy signed a memorandum of understanding with the Hashemite University to enhance students' skills in relevant faculties and departments in the field of health informatics. The memorandum aims to provide training on "Hakeem Program," and utilizing the Electronic Library of Medicine "ELM", and Hakeem Academy platform.
The memorandum, signed by the CEO of EHS, Omar Ibrahim Ayesh, and the University President, Professor Dr. Fawaz Al-Abdul-Haq Al-Zboun, outlines the areas of collaboration between the two teams. This collaboration includes training courses in the field of health informatics and "Hakeem Program," the development of various academic courses by incorporating health informatics and "Hakeem Program" topics.
Additionally, the two teams will collaborate to develop joint mechanisms for building a training program for faculty members and students related to health informatics using Hakeem Program. They will also utilize the information and research available in the "ELM" electronic library of medicine.
The memorandum also covers the exchange of expertise between the two teams, with the possibility of involving employees in joint projects, scientific research, and utilizing the scientific facilities available to each team. The collaboration will extend to participation in lectures, seminars, workshops, events, study circles, and scientific activities. Furthermore, informative sessions will be organized for students in the health and informatics colleges, as well as for teaching staff, to guide them on the use of ELM library and provide support for students' graduation projects within the available resources.
EHS CEO, Eng. Omar Ibrahim Ayesh emphasized that Hakeem Academy will continue its leading role in increasing awareness and training for local university students specializing in health informatics, enhancing their skills to enable them to achieve the goals of Hakeem Program and EHS.
Dr. Al- Zboun stated that the collaboration with EHS and Hakeem Program is a pioneering step for students in various health, information technology, medical engineering, and other related faculties. He highlighted the importance of medical information in making accurate medical decisions based on medical guidelines and best international practices.
The signing ceremony of the memorandum was attended by Mrs.Afnan Jibril, Head of Knowledge and Education at EHS, and Hamza Jaafara, Knowledge Specialist at Hakeem Academy, representing EHS. From the Hashemite University, attendees included Deputy University Presidents Professor Dr. Khaled Abu Elteen and Professor Dr. Awni Itradat, along with the Deans of the Faculties of Pharmaceutical Sciences, Nursing, Applied Medical Sciences, and Medicine, among other esteemed faculty members