"Hakeem Academy" Announces the Results of its 3rd Annual Competition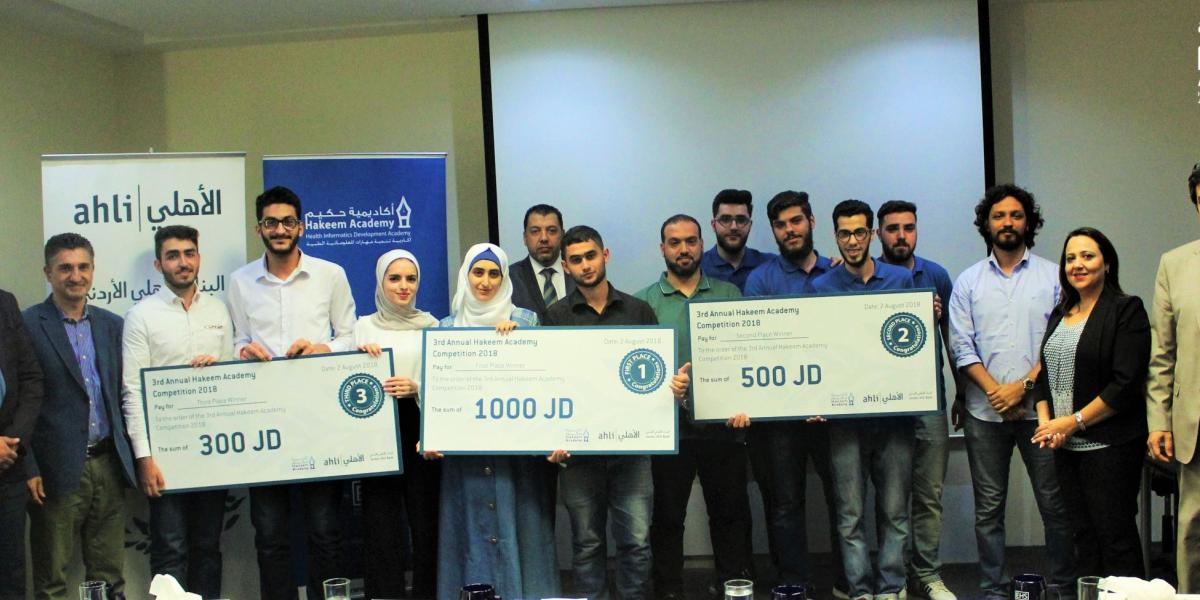 02/08/2018
"Hakeem Academy", is the human capital development and training arm of Electronic Health Solutions (EHS), announced the conclusion of its third annual competition for Jordanian universities this year; where about 30 projects have participated, and 10 teams qualified for the finals.
This year's competition, supported by the Queen Rania Center for Entrepreneurship, Ahli Bank, and King Abdullah II Fund for Development, aims to highlight the innovative projects in information technology and health informatics fields.
 "Hakeem Academy", was launched by the Electronic Health Solutions (EHS) in May 2015, aims to promote advancements in the health informatics field by creating innovative ideas and products, to develop the health care sector through technology,  which contributes in increasing the standards and quality in the various local health centers through the health care sector Automation.
The students presented their projects (initial model) to the judges, which included a representative of Microsoft, Lumenus Education Group, Ahli Bank, the Ministry of Health and Electronic Health Solutions (EHS).
His Excellency Minister of Communications and Information Technology Eng. Muthanna Al Gharaibeh, was present in the competition during a visit to EHS, where he praised the role of Electronic Health Solutions (EHS) and "Hakeem Academy" in reducing the gap between the educational sector and the labor market. His Excellency also stressed on the need to adopt pioneering projects for their importance in bringing positive change in various sectors.
In the final phase of the competition, the "Feasible multi-task sensor for heat rate" was awarded from the Jordanian University of Science and Technology (JUST), won the first place, the project aims to alleviate the patients suffering during blood withdrawal process. "Tklam" project from Petra University, came second, the project helps people with speech and stuttering problems. And the "Health Bank" from the Applied Science University, which is an intermediary site to sell and donate medical equipment came third.