About Us
Under the patronage of His Majesty King Abdullah II bin Al Hussein, Electronic Health Solutions (EHS) was founded in late 2008 to advance the healthcare sector in Jordan. EHS is an innovative technology-driven, private, non-profit company that effectively provides automated solutions to enhance the quality and efficiency of Jordanian public healthcare services.
In collaboration with strategic healthcare and technology partners, EHS is driving the future of electronic health in Jordan. These key stakeholders (owners) include the Ministry of Health (MoH), Ministry of Digital Economy and Entrepreneurship, Royal Medical Services (RMS), King Hussein Cancer Foundation (KHCF), Royal Health Awareness Society, Private Hospitals Association and King Abdulla II Fund for Development.
EHS exclusively oversees four key programs that utilize technology to advance the quality of healthcare services in Jordan's public health sector. The programs operated by EHS comprise:
In the coming years, EHS will concentrate on achieving its set strategies and goals to improve the quality of services provided as well as facilitate the patient's experience within healthcare facilities, this includes elevating the level of service in all aspects and enhancing the efficiency of health management in Jordan.
Image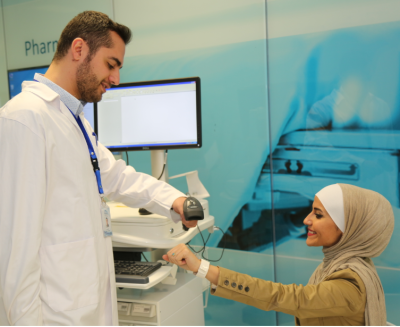 Our Vision
To transform and sustain a continuously improving healthcare system in Jordan by leveraging technology.
Our Mission Statement
The overarching mission of EHS is to elevate healthcare delivery through technology in Jordan. EHS aims to provide easy access to complete electronic health records for patients of healthcare facilities enrolled in Hakeem program through a designated broadband network. This efficient access to vital patient information will improve overall healthcare quality as the clinician will be able to better address the patient's current medical conditions with up-to-date information and determine the best course of medical action for the patient.
EHS is committed to the following core values:
Image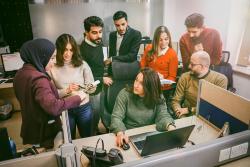 Boosting PASSION for serving the public healthcare sector through an efficient system and qualified health professionals.
Upholding a high level of PROFESSIONALISM across the organization and its employees.
Demonstrating effective and efficient TEAMWORK.
Exercising INTEGRITY and ensuring the health and safety of our communities.
Focusing on providing service and product EXCELLENCE.