BMJ celebrates roll out of Clinical Decision Support training for healthcare professionals in Jordan and Iraq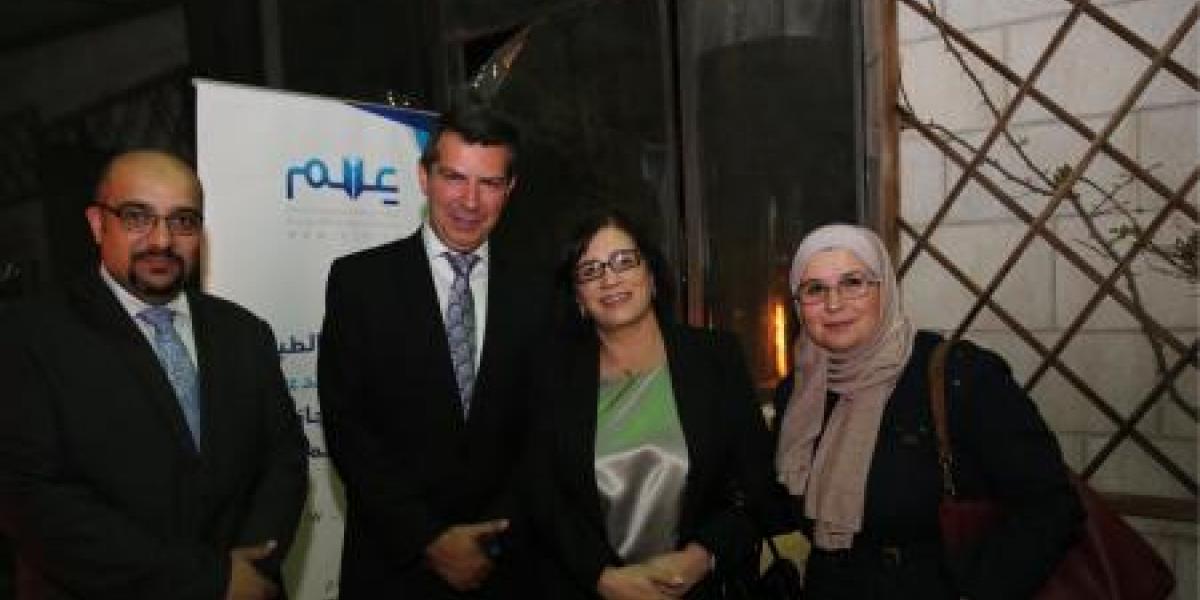 12/03/2018
BMJ, one of the world's leading medical knowledge providers, is implementing an ambitious Clinical Decision Support (CDS) Training Initiative, aimed at improving differential diagnosis of infectious diseases, as well as achieving broader healthcare outcomes in Jordan and Iraq.
The Initiative provides clinicians and healthcare professionals with evidence-based online tools and resources, including BMJ Best Practice and BMJ Learning, to improve the diagnosis, treatment and management of both communicable and non-communicable diseases. Produced by international experts, the tools are available offline, online through www.elm.jo and via mobile devices. The programme is fully supported by The Electronic Library of Medicine (ELM) programme by Electronic Health Solutions (EHS) for the benefit of the Ministry of Health and the Royal Medical Services (RMS) in Jordan, as well as the Ministry of Health and Ministry of Higher Education in Iraq.
To celebrate the initiative a reception was held at the British Ambassador's residence in Amman on the evening of March 11th.
The event was attended by representatives of Ministries of Health in Jordan and Iraq, senior Iraqi officials from the Ministry of Higher Education and key stakeholders within the heathcare sector in Jordan. After the event, the team commenced their visits to four leading hospitals across Jordan to deliver training to groups of healthcare professionals.
The first stop was Al Basheer Hospital in Amman, followed by King Hussein Medical Hospital in Amman, Prince Ali Hospital in Karak and Princess Basma Hospital in Irbid.
 
H.E. Edward Oakden, British Ambassador to Jordan, said: "This excellent new partnership between BMJ and EHS will help to ensure that healthcare providers in Jordan are equipped with the necessary tools to deliver the best service possible for the people of Jordan. I am delighted that our two countries are sharing the medical expertise needed to improve both patient treatment and healthcare more broadly in Jordan."
Mitali Wroczynski, Head of Strategic Partnerships at BMJ, said: "We are delighted that the Jordan MoH, RMS and EHS are collaborating with us on this important training initiative, and we look forward to sharing our expertise with the medical workforce. The agreement will provide clinicians in Jordan with the very best tools to develop their knowledge and skills, practice evidence-based medicine, and improve outcomes for their patients."
Dr. Rami Farraj, Chairman of EHS, said: "We aim to provide our medical personnel with access to the latest guidelines and the most relevant medical research wherever they are in Jordan, regardless of their geography, so they can deliver the best care to our people. We expect to see a positive impact on the rate of implementation of best practices within our healthcare institutions throughout the coming years."
Dr Shakir Mahmood Muhammed, Assistant Director of the National Centre of Training and Human Development at Ministry of Health, Iraq, said: "Control and treatment of Infectious diseases have been the biggest achievement human beings have made in their quest to promote health in the last century. Iraq needs to aspire to this to start its journey of health reform and management of infectious diseases. The BMJ Clinical Decision Support training initiative provides rich, comprehensive resources to detect, diagnose and manage infectious diseases. These are exactly the types of resources our country needs at this time. I am confident, based on my previous experience with BMJ Learning and BMJ Best Practice, that this initiative is going to be a success and a guide for change amongst doctors in Iraq."