EHS Announces the Sixth Session Winners of Hakeem Academy Annual Competition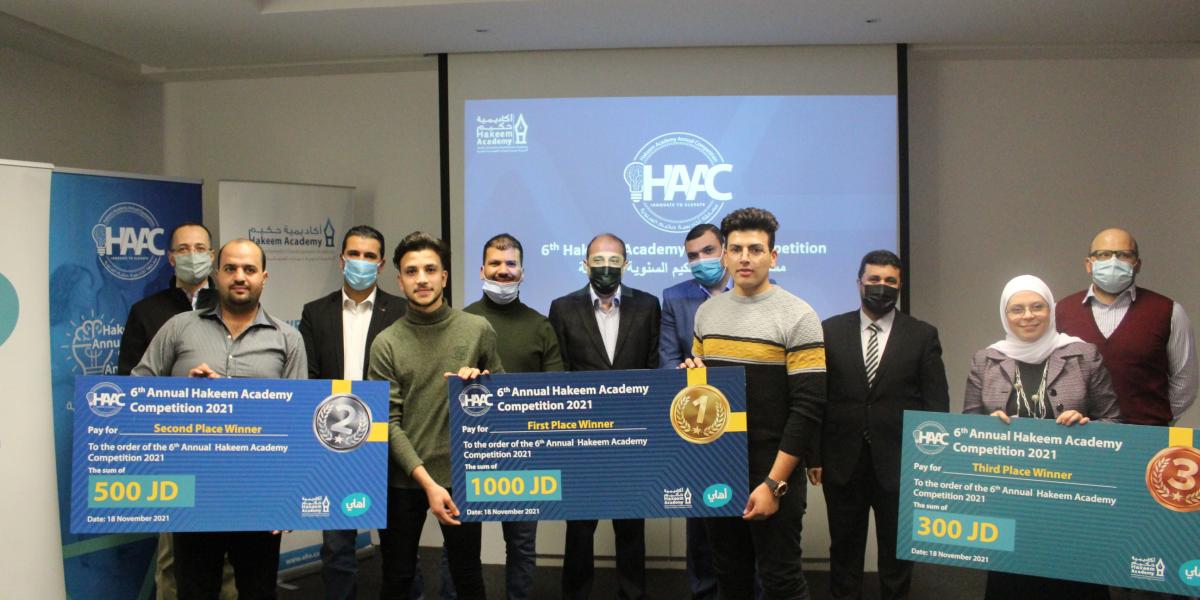 05/07/2022
Amman Nov 21, 2021
Electronic Health Solutions announced the three winning projects of the sixth Hakeem Academy Annual Competition, the leading health informatics competition in Jordan, as part of the final phase held on Thursday 18/11/2021 at the Jordan Gaming Lab (one of King Abdullah II Fund for Development programs) at the King Hussein Business Park.
The Zomra project, a blood donation application won first place in the competition. Zomra contributes to reducing death and disease rates resulting from the lack of donors and serves those needing blood donations. In second place was the smart medical companion, a phone application that connects to a set of medical sensors to provide medical follow-up through technology and artificial intelligence with high accuracy and low error rates. The advanced biological sensors continuously send results to the application, where each situation is diagnosed, and an ambulance can be requested if needed. In third place, Mawada for psychological support, an Arabic psychological support service platform (includes treatment services, training, community, and media) that makes it easier for individuals to communicate with psychiatrists and behavioral therapists to help in taking out their emotions by talking to specialists and taking specialized training courses.
The competition, held in cooperation with the Queen Rania Center for Entrepreneurship and the Jordan Ahli Bank, had 10 projects submitted by 19 contestants that qualified for the final phase. The projects covered information technology topics related to the health sector or health informatics, where judges made sure that they complied with the conditions set by the company.
The competition judging committee consisted of Dr. Mohammad Abushariah representing the education sector from the University of Jordan, Nidal Khalifeh representing the Jordan Ahli Bank, Dr. Haitham Al Duwairi representing the health sector from the Ministry of Health, Mr. Ghaith Salameh and Mr. Aoun Al-Jarrah representing Electronic Health Solutions.
The CEO of Electronic Health Solutions, Eng. Omar Ayesh, congratulated the winners of the competition, expressing his pride in the advanced level of the creative projects and ideas presented by the contestants during their participation in the sixth Hakeem Academy competition, pointing out that these projects merged the technology and health sectors, and presented solutions to meet challenges faced by the health and health informatics sectors.
Eng. Ayesh said, "The Hakeem Academy competition, which receives a great participant turnout annually, presents one of the tools of Electronic Health Solutions to attract leading medical technological projects, supporting projects, and ideas that develop health care in the Kingdom and dedicate concepts of excellence, creativity, and competition among participants."
The competition winners will receive financial prizes presented by the Jordan Ahli Bank and an incubation period for the winning projects from the Queen Rania Center for Entrepreneurship and training opportunities at Electronic Health Solutions.