Electronic Health Solutions and the Hashemite University Sign a Memorandum of Understanding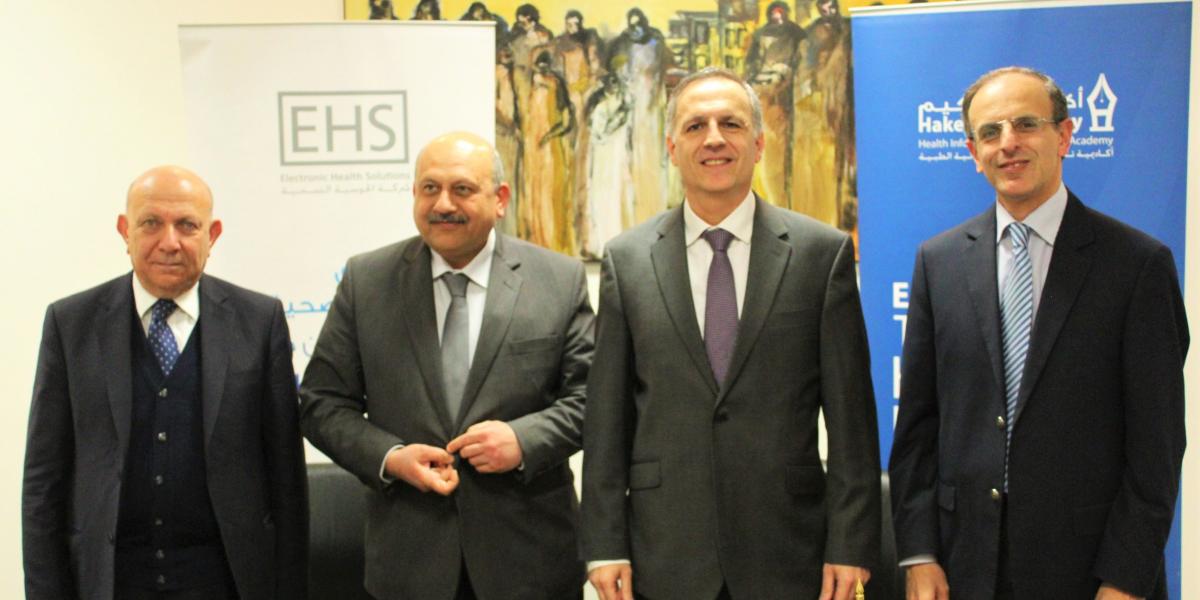 10/12/2018
Continuing with its vision to introduce innovation in the Jordanian health sector, Electronic Health Solutions (EHS) signed a memorandum of understanding between its educational division "Hakeem Academy" and the Hashemite University.
The MoU was signed by Dr. Rami Farraj, Chairman of the Board of Directors of Electronic Health Solutions, and Dr. Ali Al-Karmi, Vice President of the Hashemite University, on behalf of Dr. Kamal Bani Hani, President of the Hashemite University. The signing ceremony was also attended by Eng. Firas Kamal, CEO of Electronic Health Solutions, and Dr. Darwish Badran, Dean of the Faculty of Medicine at Hashemite University.
Both Dr. Farraj and Dr. Al-Karmi stressed on the importance of this collaboration and highlighted the positive impact that it will have on both parties. As it is stipulated in the agreement, the collaboration aims at developing the health information skills in Faculties of Medicine, Medical Sciences, Pharmaceutical Sciences and Nursing students.
Students will be trained to use "Hakeem Program", which will in turn, help bridge the gap between the training and the healthcare industry in Jordan, in order to  elevate the efficiency of employees in the different health facilities, supporting to visualize EHS' vision to raise the overall standards of local health care through technology.
It is worth noting that "Hakeem Academy" strives to continue its mission in automating the health sector in the country by collaborating with other Jordanian universities that offer medical specialties, as part of its strategy to develop human resources in the field of health informatics.