Electronic Health Solutions and Princess Sumaya University for Technology Sign MoU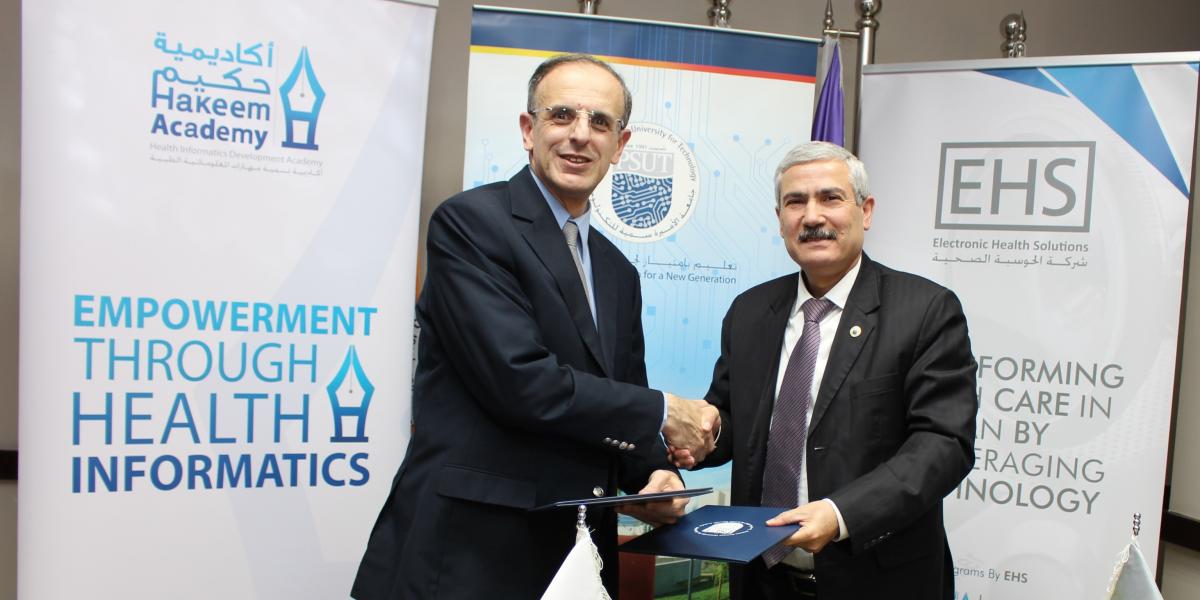 21/01/2020
Princess Sumaya University for Technology (PSUT) and Electronic Health Solutions company (EHS) represented by its educational arm, Hakeem Academy, have signed a memorandum of understanding (MoU) aimed at exchanging experiences in the fields of education, training, support for student research, and a proposal to create a Master's degree program in Health Informatics. The MoU was signed on behalf of PSUT by its president, Prof. Mashhoor Al-Refai, and on behalf of EHS by its CEO, Engineer Feras Kamal.
Prof. Al-Refai outlined the University's continued progress, its achievements and aspirations, its unique academic programs on a regional level, and what it has achieved in terms of positioning both locally and internationally in the areas of scientific research and student exchange activities, through agreements with a number of international universities, and joint programs with US and European universities, in addition to its participation in 41 European projects, taking the lead in five of them.
Prof. Al-Refai stressed PSUT's keenness to strengthen its partnerships with leading organizations and welcomed this agreement with EHS and its role in advancing the health technology sector in Jordan. He praised the role of EHS in developing technological solutions that serve citizens and facilitate their access to world-class services.
Kamal commended the role of PSUT and its support of the various technology sectors in the country. EHS was founded in 2009 as a project to advance the healthcare sector in Jordan through the implementation of a nationwide program that automates the health sector in Jordan, Hakeem, which enables health sector specialists and staff to create and electronically access health records of patients and will carry on with its mission to implement what it was set to achieve.
The MoU includes several areas of cooperation between PSUT and EHS that reinforce the importance of the partnership between universities and the private sector. These areas include cooperation in the fields of big data and information security, including providing training to a number of EHS employees by PSUT. Further to that, EHS will support research projects by PSUT students, providing guidance on student graduation projects, as well as studying the possibility of creating a Master's degree program in Health Informatics.
EHS is a non-profit company driving the future of electronic health in Jordan, in collaboration with strategic healthcare and technology partners, including the Ministry of Health, Ministry of Digital Economy and Entrepreneurship, Royal Medical Services, King Hussein Cancer Foundation, Royal Health Awareness Society, Private Hospitals Association, and King Abdullah II Fund for Development. The programs operated by EHS include Hakeem program, the Electronic Library of Medicine - Jordan (ELM), Hakeem Academy, and the Health Data Analytics program (HDA).