MoU between Electronic Health Solutions and EMPHNET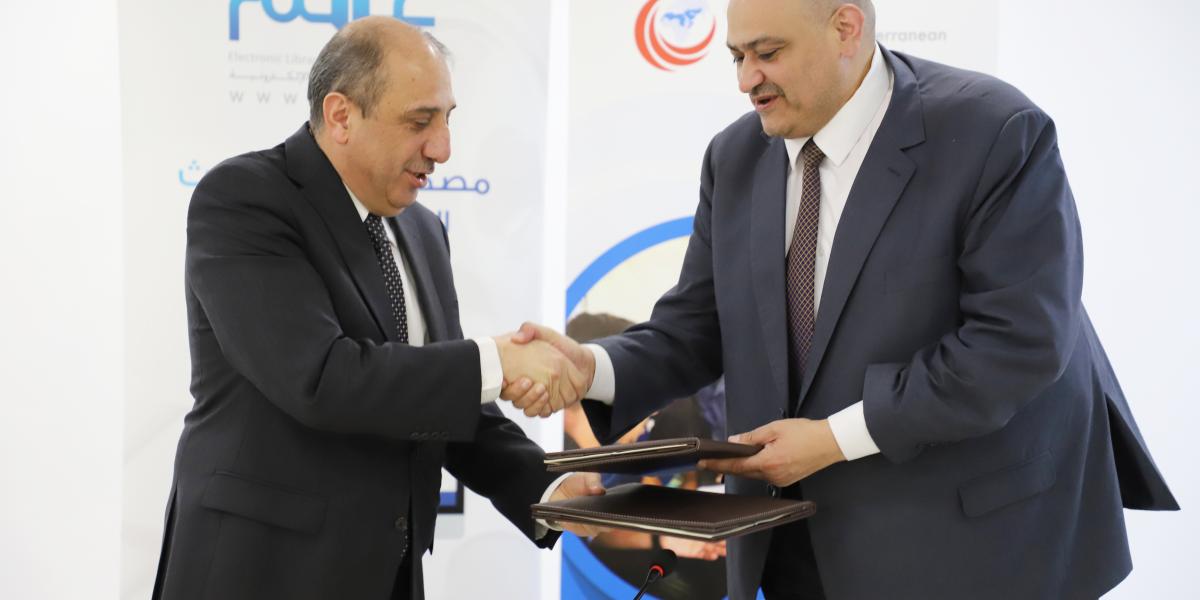 06/03/2023
Electronic Health Solutions (EHS) and the Eastern Mediterranean Public Health Network (EMPHNET) signed a Memorandum of Understanding (MOU) on Thursday 2nd of March 2023 to strengthen cooperation and exchange services.
EHS CEO Eng. Omar Ayesh and EMPHNET Executive Director Dr. Mohannad Al Nsour signed the MOU in the presence of numerous senior officials from both organizations. This MOU aims to develop digital interventions, strengthen disease registries, exchange resources and manage online portals.
Eng. Ayesh stated that EMPHNET's efforts to elevate the health sector in the Eastern Mediterranean indicate that the MOU will enhance the capabilities of the two libraries' in spreading awareness and exchanging information and expertise in health information and other related fields.
Eng. Ayesh emphasized that "EHS" and the Electronic Library of Medicine - "ELM" will constantly contribute to advance healthcare and provide high quality healthcare services to patients in the Kingdom.
Dr. Al Nsour stated that "This cooperation will enhance the ability to organize and manage EEL, in addition to providing the library with important resources that meet the research requirements and the continuous learning needs for those who are interested in expanding their knowledge in the field of public health."
Launched in 2013, ELM is the first national program that features a vast number of electronic medical resources, clinical decision support tools, e-Journals and e-Books, and powerful federated medical search engines. ELM offers its resources to all healthcare professionals and university students in Jordan for free to improve the quality of healthcare in Jordan by providing access to medical information utilized to make accurate clinical decisions based on evidence-based medicine and best practice guidelines.
This MoU aligns with EMPHNET's strategy for developing and expanding knowledge exchange opportunities that facilitate the uptake knowledge in public health policy and practice.
EMPHNET Electronic Library "EEL" is one of its knowledge exchange and networking initiatives, which aims to serve as a resource for field epidemiologists and public health professionals, and to spread public health education and information across the Eastern Mediterranean