The Electronic Library of Medicine and the Jordanian Nursing Council Sign Memorandum of Understanding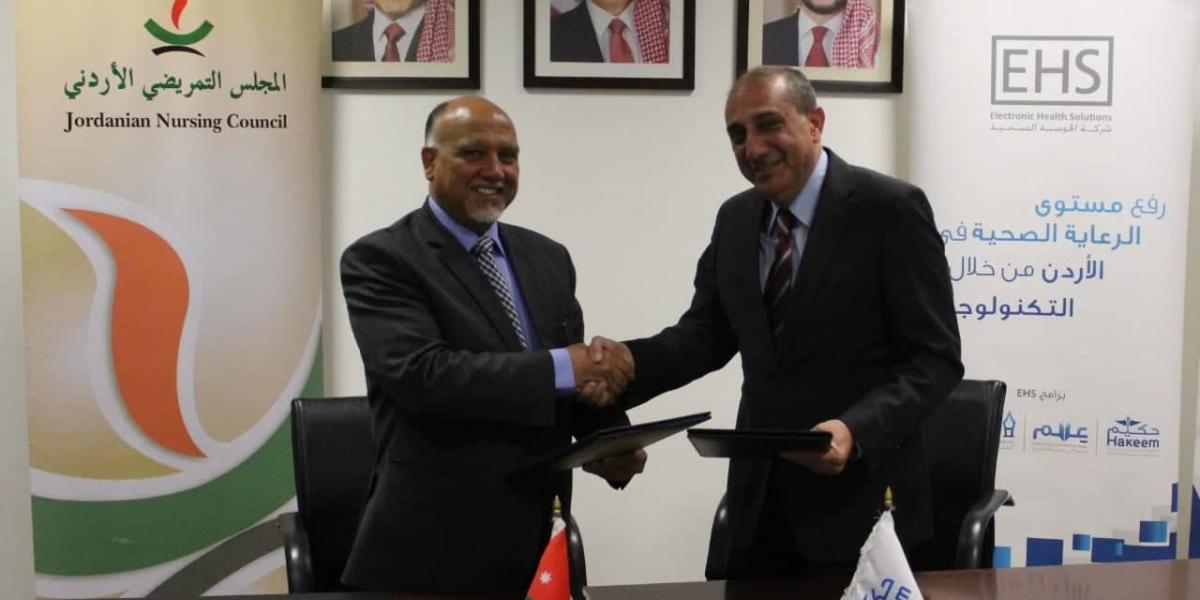 15/06/2022
Amman – May ** 2022
Electronic Health Solutions (EHS), represented by the Jordan Electronic Library of Medicine (ELM) and the Jordanian Nursing Council, signed a memorandum of understanding that provides accredited professional development activities to renew professional licenses to practice nursing and midwifery, while promoting these professions.
The Memorandum was signed by CEO of EHS, Eng. Omar Ibrahim Ayesh and the Secretary-General of the Jordanian Nursing Council, Prof. Hani Al Nawafleh, in the presence of Her Excellency Da'ad Shawka, Advisor to HRH Princess Muna Al-Hussein at the Jordanian Nursing Council.
The memorandum aims to hold training activities and programs related to nursing and midwifery while promoting cooperation in the scientific research field of these professions. The research will be compiled and classified on the ELM platform according to priorities in the field, which will help health workers exchange experiences and be informed. In addition to linking the Simulation Center of the Nursing Council with EHS, the memorandum aims to train nurses and midwives on the Hakeem program and to hold training and introductory workshops at ELM.
Eng. Ayesh stressed the importance of signing the memorandum with the Jordanian Nursing Council, through employing technology to advance the level of health care in Jordan and harnessing the expertise, educational and scientific capabilities that are enjoyed by ELM to develop health informatics skills for nurses and midwives.
Eng. Ayesh indicated that holding specialized training courses and programs will contribute to bridging the gap between the educational outputs and the labor market in the field of nursing and raising the efficiency of workers in health facilities, which supports the company's vision and objectives in raising the level of health care in the Kingdom.
For his part, Prof. Nawafleh commended the efforts made by the EHS and the ELM to support and enhance the healthcare sector through its reliance on technology to provide effective technical solutions, in addition to enabling healthcare professionals to access medical information that helps them make accurate medical decisions supported by evidence to keep up with global standards followed in this field.