Al Hussein Technical University and Hakeem Academy form New Partnership to Boost Jordanian Students' Health IT Skills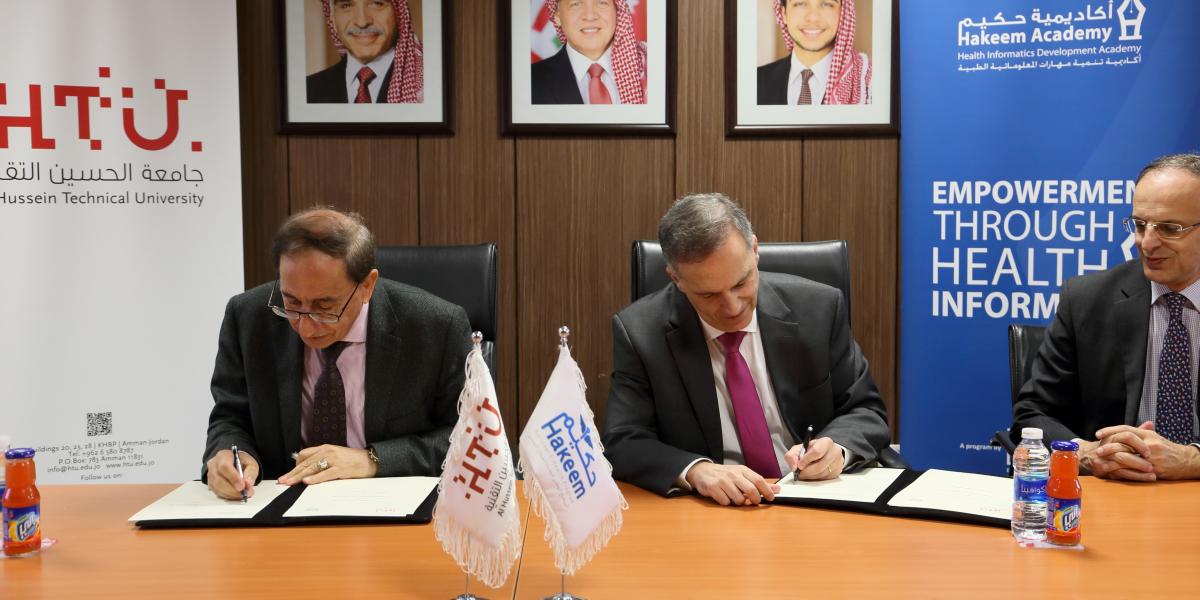 04/02/2019
Amman, Jordan ( Febreuary 2019): Al Hussein Technical University and Electronic Health Solutions company (EHS), represented by its educational arm, "Hakeem Academy" signed a Memorandum of Understanding aimed at enhancing cooperation in the field of supporting technical education, exchanging technical expertise and develop practical training for students.
The agreement was signed by King Hussein University President Dr Labib Al-Khadra and Chairman of the Board of Electronic Health Solutions, Dr Rami Farraj, in the presence of EHS CEO, Engineer Feras Kamal, members of the University's academic staff and senior employees from Electronic Health Solutions.
The MoU, signed at the King Hussein Business Park, will provide a range of training opportunities for students of Al Hussein Technical University and contribute to joint research, as well as provide consulting services and review of IT courses offered by the University within its academic programs.
The University's President stressed on the importance of this partnership, which stems from the University's keenness to strengthen solid cooperation between educational institutions and the private sector, exchange technical expertise between them and include university students in intensive training programs supervised by the company.
The President of Al Hussein Technical University said:  "This partnership will enable the University and its students to stay updated with the latest developments in Information Technology, business solutions and the latest developments in the world of health computing, which will contribute to the development of students' skills and enhance their technical capabilities."
Dr. Al-Khadra stressed on the University's continuous efforts to develop the curriculum, explaining that the dynamics of the courses and practical application provides the best solution to bridging the gap between the outputs of education and the labour market's demands.
Dr.Farraj presented an overview of EHS, its achievements and its three programs, "Hakeem Program, Electronic Library of Medicine –ELM  and Hakeem Academy ", stressing the importance of this MoU due to its advantages to the signatories in bridging the gap between educational outputs and the health sector labour market, enhancing cooperation between the health and technology sectors, as well as raising the efficiency of employees in various health facilities. "This, in turn, supports the Company's vision of raising the level of health care in the Kingdom through technology", he further noted.
Mr. Feras Kamal, CEO of EHS, emphasized the importance of this agreement and full readiness to share experiences and provide both parties with services that support the health and technology sectors in the Kingdom.
EHS is considered a private, non-profit, technology-based company providing effective technical solutions to enhance the quality and efficiency of public health care services in Jordan.
Al Hussein Technical University, established by the Crown Prince Foundation in 2016, grants Bachelors and intermediate university degrees in engineering and computer science.
Other links
EHS on T