Electronic Health Solutions and Jordan University of Science and Technology Sign a Memorandum of Understanding to Develop Students' Health Informatics Skills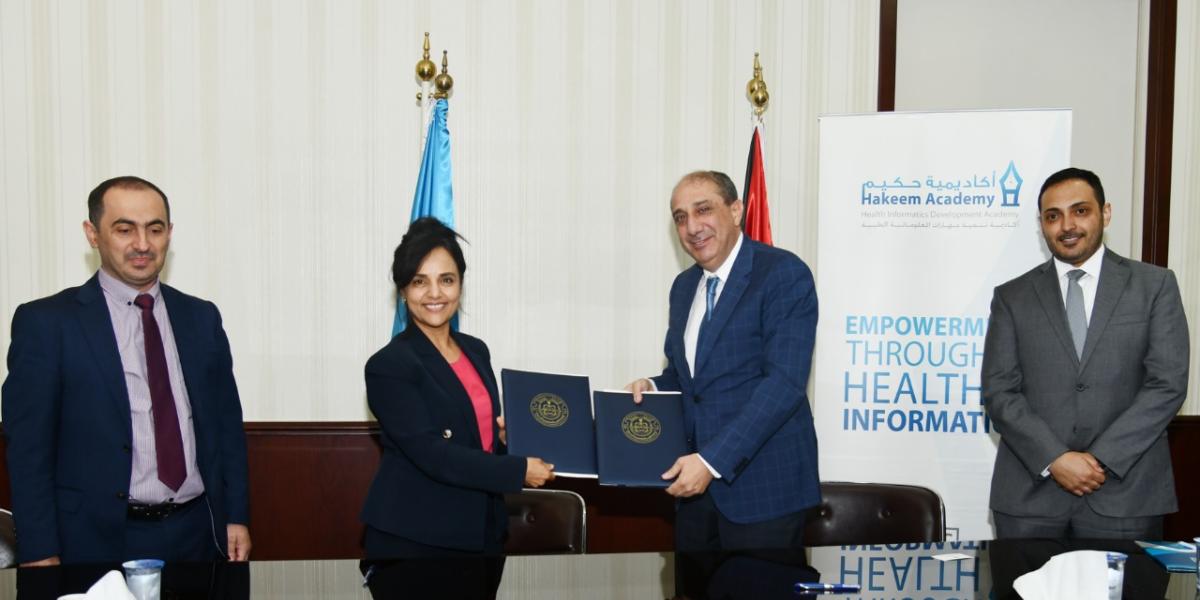 29/06/2022
Amman XXXX June:
Electronic Health Solutions (EHS), represented by its educational department, Hakeem Academy, and Jordan University of Science and Technology signed a memorandum of understanding that aims to develop the health informatics skills of university students.
The memorandum of understanding was signed by the Acting President of Jordan University of Science and Technology, Prof. Suhad Al-Jundi, and the CEO of EHS, Eng. Omar Ibrahim Ayesh.
​Following the signing of the memorandum of understanding, Eng. Ayesh said that one of the objectives of Electronic Health Solutions is to raise the efficiency of workers in Jordanian health facilities, starting from students in health faculties such as medicine, allied medical sciences, pharmaceutical sciences, and nursing, therefore, this memorandum will develop their skills in Health Informatics by training and informing students about the Hakeem program, which in return will contribute to bridging the gap between education outcomes and the labor market in the health sector.
Ayesh pointed out that EHS relies on technology to provide effective technical solutions with the aim of enhancing the quality and efficiency of public health care services in Jordan and enhancing Jordan's position on the medical tourism map at the regional level, in cooperation with all stakeholders including the Ministry of Health, the Ministry of Digital Economy and Entrepreneurship, Royal Medical Services, King Hussein Cancer Foundation, Royal Health Awareness Society, Private Hospitals Association, and King Abdullah II Fund for Development.
The Hakeem Academy is constantly working to promote the principle of integrated education in line with the company's vision to harness technology in serving the health sector through the Hakeem Academy platform for e-learning. The platform provides training courses on the Hakeem program with its various applications, which are currently available to health care providers in their various specialties and students at Jordanian universities as well as those interested in the field of health informatics.