H.E. Al-Gharaibeh: The National Program "HAKEEM" is a Qualitative Leap in the Jordanian Health Sector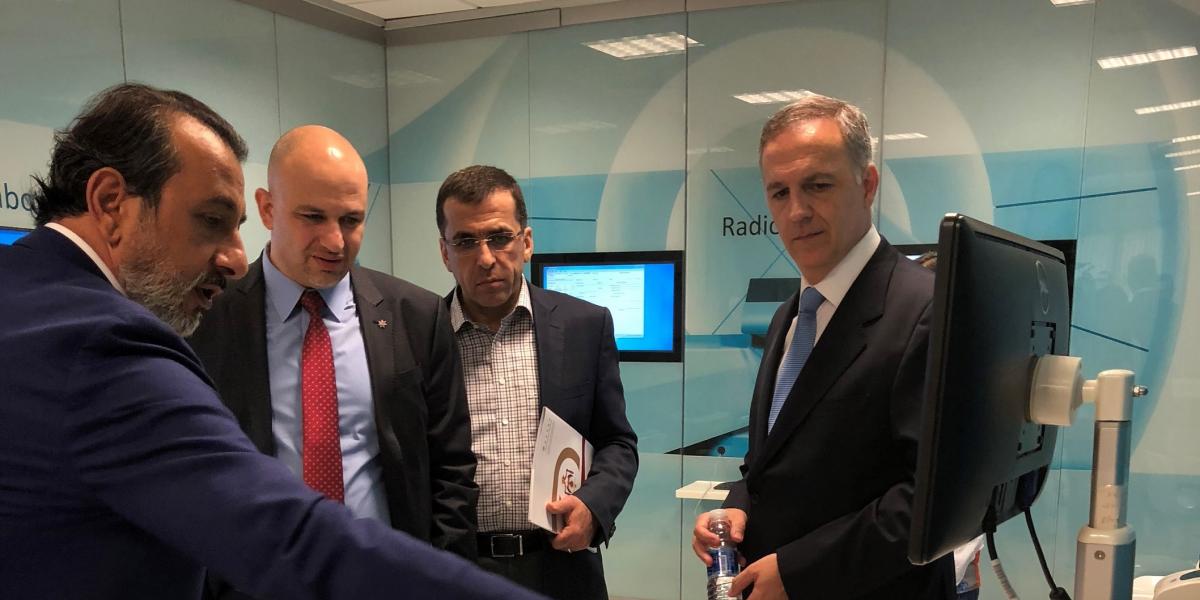 02/08/2018
In a recent visit to EHS, H.E. Minister of Communications and Information Technology Eng. Muthana Gharaibeh stressed on the vital role played by EHS in Jordan and Internationally in the automation of health facilities. His Excellency pointed out the integral role the digitalization of the health sector in the electronic transformation process for all sectors in the Kingdom, aiming to provide the best possible service to the Jordanian citizens.
During the visit, Minister Eng. Muthana Gharaibeh to the headquarters of Electronic Health Solutions International, His Excellency received a brief on the latest development of the company and achievements reached.
H.E. Eng. Gharaibeh praised the programs and initiatives carried out by the company represented by "Hakeem" program, Jordan Medical Electronic Library "ELM", and "Hakeem" Academy. EHS Chairman, Dr. Rami Farraj, highlighted the major role it plays in improving the efficiency of services provided to health facilities, in addition to reducing spending, and controlling operational costs in the health sector.
The Minister was also briefed by the CEO of Electronic Health Solutions International, Mr. Ghassan Al-Lahham, about the health insurance claims scheme, which aims to provide a comprehensive health record for all citizens linked to insurance programs.
Effectively interpreting the royal vision to an advanced digital Jordan, His Excellency mentioned that the ministry aspires to implement the project, due to the great benefits it offers to the health sector, reducing expenses and reducing spending.
Mr. Al-Lahham added, the system is designed to be the building block to complement the electronic system for all the medical facilities that "Hakeem" has worked for years with the government of Jordan, which will reflect positively on the quality of medical services provided and will contribute to improving the health services in the Kingdom. It also consolidates the efforts of all health care workers with benefits and advantages of enhancing the safety of patients, reducing errors, waste and misuse, and enabling the government to develop future plans based on accurate information and reports from the system and improve the competitiveness of the global health sector.
Dr. Rami Farraj confirmed the company's continuous research and development, presenting as one of the leading companies in the health information technology sector in the region, through the development of new programs and applications utilizing Jordanian talents without the need for external expertise.